October 18th, 2023 Update on Purchasing I am updating the means by which to order. For now please email me at asartstudio@gmail.com Do not use Bandcamp at this time.
Available for purchase at Bandcamp.com
https://bandcamp.com/search?q=MorningStar%20a%20Play%20as%20Musical%20Audio%20Book
October 18th, 2022 Update I am working on new demos for the Youtube site, the Alva Sound Art Studio Channel
DEMO of recording and two songs, "Prelude (And Be Free/The Spring Time That We Met)" and "Ultimate Acceptance" available on The Alva Sound Art Studio Youtube Channel
Also on Youtube at the Alva Sound Art Studio Channel is a recorded lecture, with audio edits from the production on the topic "Land as Character Portrayed in Sound" in a purely aural media. This was presented on October 3rd 2020 to a world wide conference of The Communal Studies Association. Quite scholarly actually, in aesthetics, ontology and metaphysics.
https://www.youtube.com/channel/UCW67MB-n8ssOXlJjDSXsYpg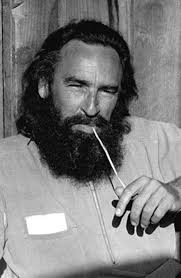 In the year 2000 when the United States was gearing up for yet another immoral war I was wondering, where have all the hippies gone? Those people who in the 1960s and 1970s stood up for Peace and Love? Was I one now? Have they all headed for the hills? It was then that a co-worker of mine said to me "Hey you remind me of Lou Gottlieb. Here take a look at this book. It is the 'Morning Star Scrapbook.'" Well in that scrapbook were the hippies, or at least, their journal and their history repleat with photos and newspapers clipping. It was quite an event that they lived through. The story of which you can hear on the musical audio book, so no sense writing it here now.
As I was reading the scrapbook I thought the story was great, yeah, cool. But then I got to the part about Lou deeding the Land, – Access to Which is Denied No One – to God, and that the Sonoma County Courts had to rule on whether or not God can legally own property in the Sonoma County, let alone in the United States. Literally the book started shaking in my hands, as did my hands up to my brain and my heart. "Oh My God, this is THEATER!"
And I felt it was a balm for the current situation.
With those literal archetypes and their aspiration, and with my intention of performing this story on stage… This would be my major contribution to Peace and Love going forward.
More on this later, but first I want to list all of the people involved in making MorningStar a Play as Musical Audio Book.
MorningStar a Play as Musical Audio Book Performers:
Stephen Fowler as "Lou"
Jonathan Van Nuys as "Ramon"
Gloria Strasborg as "Gina"
Theresa Abalo as "Near"
Erin Lee Anderson as "Dolly"
Brian Skinner as "John Butler"
Joe Winkler as "Professor Harold Dogsley"
Cristian Caetano as "Pamona Paste"
Len Improta as "D A Ramsey"
Tom McIntyre as "The Judge"
Jeremy Sharpe as "the Narrator"
The following Performers performed several, or many, character rolls:
Kelly Ann Walton; Nadja Masura; Art Kopecky; Robin Temple; Dom Lyons; Claudia Larsen;
Daniel Alva; Ryan Madden; David Sloves; Gardner Rust; Zachary Alva; Lilly Hourigan;
Andrea Van Dyke; Margaret McIntyre; Michael Escobel; Theo Yardley; Rich Sanders;
Tanya Boone-Alva; Cyrus Alva; Petri Alva; and Nicholas Alva;
Special Guest Appearance by Edward McCloud
Jeffree Whitebear Domagalski sang "the Hippy Chanter"
Almost all of the cast members sang
Musical Groups:
The Round; The Peerless Wonders; The Morning Star Folkharmonic Orchestra; Jeremy Sharpe and his Associates; Joe Dolce performed "Hey Lout Gottlieb"; and Zachary Alva was the Piano soloist.
Musicians, vocalists and instrumentalists:
Alicia Bay Laurel, Ramon Sender, Joe Dolce, Carrie Krueger, Linton Hale, Radical Ron Ransford, Mark Petrella, Mark Escalera, Uwe Lueth, Ken Dutcher, Brian Skinner, Cyrus Alva, Petri Alva,
Tanya Boone-Alva, Rachel Tree, Alanna Weatherby, Ezra Hernandez, Alex Sterling, Brett Mollard, Rich Sanders, and Nicholas Alva
MorningStar a Play as Musical Audio Book Composers:
Alicia Bay Laurel
Ramon Sender
Lou and Mother Mira
Joe Dolce
Brian Skinner
Tanya Boone Alva
Kelly Ann Walton
Linton Hale
Nicholas Alva
Johann Sebastian Bach
Modest Mussorgsky
Sergei Rachmaninoff
Blues Trip Jam by Jeremy Sharpe and Associates
And anonymous for some traditional style pieces
(copywrites held by composers)
An Alva Sound Art Studio Production
Produced and Directed by Nicholas Alva
Written by Nicholas Alva, with source information from "The Morning Star Scrapbook"; "Home Free Home Journal"; The Press Democrat Archives and many living history interviews and oral tradition
Sound Recorded, Engineered, Edited and Mixed by: Jeremy Sharpe, Rich Sanders and Nicholas Alva
Production work done at The Coop on Star Mountain; S2ads; and Alva Sound Art Studio
Final mix by Nicholas Alva
The Morning Star Collage created by Phil Morningstar
Additional Art and Calligraphy by Tanya Boone-Alva
Photos by Cyrus and Petri Alva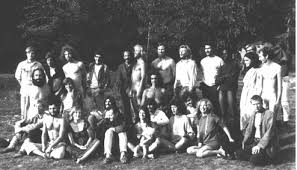 Over 50 performers and creators worked on
MorningStar a Play as Musical Audio Book.
So, the lady co-worker, her name was Jodi Mitchell, put me in contact with Ramon Sender. In the photo above is in the middle of the middle row. And here he is more recently: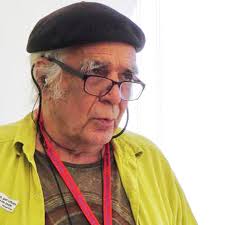 Ramon, well I was going to write about Ramon, but you can hear all about him on the musical audio book…
(By the way, there will be links to many of these people, as many are creators of their works as well, or performers performing.)
… Ramon became the source for me to connect with people who had been on the land, so that I could do oral history.
But I never was able to meet Lou Gottlieb. Which is interesting, because I had two opportunities prior to being aware of Morning Star to do so. I will say, that in some ways it was probably better that I never met him in this lifetime, because I would not do his story. But the two opportunities where.
First around 1995 the band I was in The Round, was in a folk writers competition for the Napa County Folk Festival. We were partly folk, mostly eclectic. Well we lost, but Lou was one of the judges. After the day ended and I was fairly beery, and trying to court my future wife, (thank God for her patience) who was also in the band, a young man walked up to me and said, "Hey Lou Gottlieb, you know from the Limeliter's, and one of the judges wants to meet you. He liked all of your composing, but didn't vote for you, but he (Lou being a bass player) really likes your bass playing and wants to meet you."
"Naw" I said. "I have better things to do."
I mean why bother meeting the man who sang "Have Some Madera My Dear" (a song and performance I really liked since I was a kid, though lyrically it is quite mean) just because he didn't vote for us to win? I was still immature and full of hubris… but I was complemented that he liked my bass playing.
And then again the year before he died he was working with the local PBS radio station KRCB (which I had briefly worked for.) He was hosting a program. And another young man, actually twice, quite insistently, said that I needed to meet Lou Gottlieb. That he and I would hit it off, who knows where that would lead, but that I HAD to meet him.
"Naw" I said.
Well…
… back to Ramon, whom fortunately and gratefully I did meet. He generously shared his writings, his compositions, his ideas and suggestions. I consider him to be the Hippy Wizard, a creative genius. He has told me for years that I look and act like Lou… Ramon read, edited, corrected, offered suggestions and references for the entire script. And he had only one real suggestion that he was insistent upon. He wanted the scene where the hippies come to the court room for the first time to be like a Surreal Gilbert and Sullivan production. He wrote the words. And I wrote the music. To me this is a highlight, which is amazingly sung by the chorus and Tom McInyre as the "Judge of Excrement."
But that was after our second and third children were both born. I had to take time to be a family man. So came the interruption. After composing music for thirteen plays, performing in theaters, including the Fringe Festival, leading bands and having a home studio. I went to work full time. It was the right thing to do.
In 2004 or 5, Ramon contacted me with an offer to perform a short production for a group of Professors who hold annual conferences through out the United States. They were meeting at the Marconi Center in Marshall, on Tomales Bay in Marin County. It was paid! Who could say no. I had a script of 150 plus pages – a big story – and I edited it down to a short piece, as if Lou were being interviewed by professors, and we had a small cast with musicians and dancers (some of whom are on the recording). We did well, and also performed it in the hills above Occidental at a private compound. It was there that I had a talk with Wilder Bentley, who said that that production seemed like a Noh play. (Well okay, great. I loved Wilder. The oldest of the hippies. I was fortunate to hang out with him shortley before he died. A Spirit a true human being.)
Prior to this production my family stayed at Morning Star for three days, while the caretakers were away. I used Lou's piano to write, "I Deed This Land." Later Ramon on accordion and five other musicians became the MorningStar Folkharmonic Orchestra, recording several songs on the Land. Which are in the musical audio book. A photo of that session ended up on the front cover of the Northbay Bohemian, a large weekly paper that interviewed me because…
… then came time to do the big production. In 2007 we hired Michael Fontaine, whom at the time I felt to not only to be best theater director in Sonoma County, but in the North Bay Area, period. I talked with him. He looked at the script, and said that this is way too much, remember over 150 pages, way too ambitious, and actually chaos. However, he saw the story and that there were shining elements in the writing. He said "look give me two weeks to edit this, and if I can, I will direct it." He did a master full job of editing, which included the caveat that my wife had, make if family friendly. So downplayed were the drugs, the thugs, and nudity. Even though it was a play, in part about hippies and some very difficult times. But the aspiration came through, living on the land, maypole dances, the neighbors, the courts, the times.
Well, who would see this? We rented a 100 seat hall at the Spreckels Performing Art Center in the all way too Hippy Town of Rohnert Park… not… But close to home. Eight nights. Got good publicity and away we went. Most of the cast and musicians in this stage production are on the musical audio book.
I had a full time job, a wife, three young boys and at one point I had over 40 technicians, musicians and actors getting ready for this production. By the third performance we were selling out, and by the last three we had SRO. Including people sitting in the midst of performing musicians. We were turning people away.
Who saw it? Everyone! All ages, all colors, creeds and backgrounds, all outlooks in life. The press, who gave it great reviews and interviews… the best letter I got was from a lady who said that on the way home she had the best conversation she had had in years with her husband. She was a former hippy, he was a staunch conservative. High school kids got class credits…. We could not extend the run. If we had, we would have made a profit on this self financed endeavor.
So as you can see, the material is good.
Then Alicia Bay Laurel, and Joe Dolce were available to perform in the Bay Area, and I got the musicians from the production to perform three shows in the Bay Area. My wife Tanya and I, Joe and Alicia had a 90 minute slot on KPFA, live. Tanya and I celebrated, not with beer, but with White Mochas in Berkeley.
I then organized a Bay Area Theaters Composers Concert Series. Along with two other theater composers and their ensembles we performed three shows in the Bay Area. The idea was to feature theater composers performing their music with out a staged production. Unfortunately, this was drudgery and work, very little cooperation, and a lot of ego, manipulation and out and out rudeness. My end featured music from MorningStar. Then two things happened. One I burnt out. And two, the hippy chick that MorningStar sometimes is moved on to a new place, a new experience. She moved out on me.
Just after that I met with a local theater person, one well connected with the more established theater companies, I being an indie. I asked her, why didn't any of the other theater local theater companies want to take on MorningStar? She said, "Oh everyone knew about it, but felt it had a limited audience, only old hippies." When I told we had nearly 900 people come to the shows, our filled house percentages blew away all other productions in the north bay that year, and the diversity of the audience was such that essentially representatives from all walks of life came, and that some of the local theater people later told me how sorry they were for missing it… she said, "oh, no one knew that… oops… bring it back."
Not the time.
And other Alva Sound Art Studio productions surfaced. In 2000 I wrote and recorded "Peacetet" which was meant to be a work to counter the immoral wars. I started and continue to work on the creation of "Charlie Troll Chum" which will be the second of three Musical Audio Books based upon human aspiration. This work written in Finland, Latvia and California. And in 2016 a performance of "The Story of Brother Sun Sister Moon" which allowed me to connect a bit with Donovan. Am I really that 60ish – well being born in 1963, I am a true child of the 60s. And I also wrote "The Way of a Pilgrim", which will be the third Musical Audio book based upon human aspiration… the simplest and shortest of the trilogy. I also received a small grant to do a performance in a community garden. I was told that they didn't know what I would do, but I was the perfect one to do it. But I digress and "Brother Sun Sister Moon" and some of the other production information is in the history section…
Well, MorningStar moved back in. But what did it want to be as it was growing older? Did it want to be a movie? I started a script. Should it be made shorter? Should I try to find money to put it on stage again….????? No. But I did something brilliant when I wrote those first 150 plus pages. I included a huge amount of staging ideas… it is a complex work… and references…. I was re-reading figuring out what to do, and those cues and references, and stage design and action plotting ideas transformed and easily translated into narration…. I built that up a bit, with word imagery and a lot of referential history and I had a musical book….. wait….. I had a MUSICAL AUDIO BOOK!!!! Not only where their 160 plus pages of text, there were nearly 60 songs and soundscape ideas. This took three years to realize. And I can say that with the narration, no more chaos, well no more than what actually, really occurred.
And now you can hear it all in this 8 hour Musical Audio Book.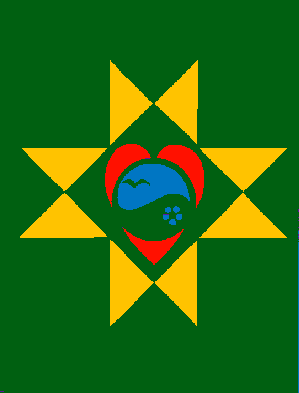 https://alvasoundartstudio.bandcamp.com/album/morningstar-a-play-as-musical-audio-book